about us
Our Company
Mayfield's Inc specializes in rare stones and multiple colored jewelry pieces. With the upmost attention to quality and detail, let us produce your dream piece today. Custom orders are always welcome.
Current Events
The Judy Mayfield Collection has been worn at the Oscars, Golden Globes, Emmys and the American Music Awards. Ask for the Judy Mayfield Collection in fine jewelry stores or contact us for more information.
Designer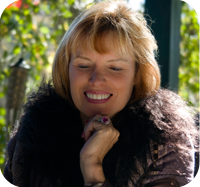 Judy Mayfield of the Judy Mayfield Collection is an internationally renowned designer of fine jewelry specializing in rare stones. Her collection and particularly her bridal line is available at fine jewelry stores in Japan, Europe and the USA.
Judy created her signature rainbow line approximately 20 years ago. These beautiful and extremely rare combinations of seven rainbow sapphires are collected from four continents and twelve countries with great difficulty. Because some of the colors are so rare, it takes up to six years to put together the stones for one bracelet. It is truly a labor of love and patience. Even green, the least expensive of the sapphire family, is forty times rarer than diamond. Finally the stones are wrought in innovative design of precious metals such as 18kt gold and platinum.
Personal History
Judy Mayfield studied Fine Arts at the University of Calgary, Canada and at the age of 22 left for Europe to further her studies abroad to complete her degree in Switzerland. During her studies, she began the wholesale trading of coral and pearls between Europe and Asia. Six years later, Judy immigrated to the United States.
In 1979 she entered the wholesale colored stone business. She was one of the first foreign women to buy at the mine sites along the Thai-Cambodian border. This was particularly risky since the Khmer Rouge ruled Cambodia with an iron fist and incursions along the border were common. She began marketing loose stones to designers and manufacturers in Europe, Asia and the USA. Judy also bought rough in Africa, South America and Asia for both cutting and trading of the rough. At that time cutting quality was very poor, therefore she organized one of the first cutting operations in Thailand dedicated to producing fine calibrated cuts.
Judy also became one of the founding members of the American Gem Trade Association and later the International Colored Stone Association and was both Board of Directors and Officers of both organizations. These associations are dedicated to monitoring fair trade practices, disclosure of treatments and the awareness marketing of colored stones throughout the world.
"I use color and shape in my designs to express a variety of mood and emotions. I make my line for women who want to show off their fun, flirty fabulous side"
Judy Mayfield, Fine Jewelry Designer